Newton High School


Class Of 1968
In Memory
David Olson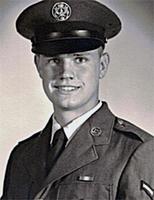 David R. Olson was born June 24th, 1950 in Newton, Kansas. He was the 4th of 6 children. In 1968, he joined the Air Force and was stationed in Spain from 1968 to 1974 during the war in Vietnam. He always spoke fondly of his time in Spain and it was the beginning of his lifelong journey as a language learner.

When he left his military service he worked for a number of years as a histologist in medical labs, as a school custodian and finally worked in a die shop for a plastics company. He always described himself as a biologist by training.

He moved to Lindsborg in 1990, with his wife Karen J. Olson.

In the 70's he fell in love with martial arts, learning various styles, studying Xingyi, Taiji and Aikido up until his death. He was also an amateur photographer, and knife and jewelry maker. He enjoyed spending time in nature, and enjoyed learning the names of different trees and plants.

He leaves 2 sons, Morgan and Davin, and a daughter, Clarissa; 1 grandson, Owen, 1 brother, Tony Olson, and sisters Ann Robins and Mary Snyder.

He was predeceased by his wife, Karen, parents John and Clarissa, and brothers John Jr and Richard.

Cremation has been selected and services will be later this summer.