Newton High School


Class Of 1968
In Memory
Barbara Klassen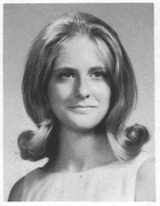 Barbara Lee Klassen (1950 - 2015)
Barbara Lee Klassen, born Oct. 10, 1950, in Newton, Kan., entered into rest on Feb. 1, 2015, in Denver.
Barbara is survived by her husband, Joe Speth of Silver Plume; her sister, Kathleen Brown (Michael), and a nephew, David Brown, both of Cape Girardeau, Mo.; and a niece, Laura Brown, and a great-niece, Emma Wolfe, both of Wichita, Kansas.
She was preceded in death by her parents, Dr. Daniel S. Klassen and Victoria Klassen of Newton, Kan.
Barbara graduated from the University of Kansas with a degree in English. She did graduate work in library science with Emporia State University.
Following graduation, she worked as a children's librarian at the Topeka Public Library. She moved to Colorado and got a job with the Bureau of Land Management library at the Federal Center in Lakewood. She eventually became lead librarian for the library, and her career there spanned more than 30 years. She truly loved the BLM library and her work there. She continued to work until her death.
Barbara's hobbies included gardening, reading, jewelry beadwork, and anything to do with books and literature.
A memorial service will be held sometime this summer (2015) in Silver Plume.
In lieu of flowers, memorial contributions may be made to People for Silver Plume Inc., P.O. Box 935, Silver Plume, CO 80476.
Published in Clear Creek Courant from Feb. 11 to Feb. 17, 2015