Newton High School


Class Of 1968
In Memory
Tom Smith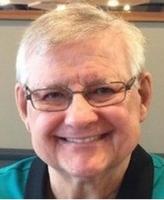 August 21, 1950 - June 4, 2021
Wichita, Kansas - Thomas Bradford Smith, retired Risk Manager for the City of Wichita, died at home in Wichita, KS on Friday, June 4, 2021.
Tom is survived by daughter, Michelle Smith; brother, Ronald Smith; and a spunky little dog named "Fast Eddie." Tom was born in Newton, KS on August 21, 1950, to Marilyn and Bill Smith. Tom grew up in Newton before attending college at Wichita State University where he earned his MPA from WSU's Hugo Wall School of Public Affairs. Tom joined the City of Wichita as a graduate student intern and stayed on until his retirement in 2010. Throughout that time, he enjoyed many roles including grant administrator, director of human services, director of housing, and risk manager. A highlight of his career was being invited by Cessna to join them when President Clinton came to town to tour their 21st Street project. Tom had worked with Cessna to secure grant financing and develop the program under federal welfare to work initiatives. Some of the other major projects he helped bring to life include the WATER Center, Waterwalk, Old Town Development, and the Eaton Hotel. Tom had a deep love for the city of Wichita and cherished his opportunities to make a positive impact for the city and its people.

Tom enjoyed many years of family fun at Milford Lake and traveled when he could for work or family vacations. Tom also enjoyed reading avidly and studied military and aviation history and technology.
An open-house style celebration of Tom's life will be hosted Sunday, June 13, 2021, from 1:00 pm to 4:00 pm by his daughter Michelle at 240 N Terrace Dr., Wichita, KS 67208. Anyone who wishes to share memories of Tom is welcome.

Services in care of Downing & Lahey East Mortuary. Share tributes online at: www.dlwichita.com