Newton High School


Class Of 1968
In Memory
Steve Schultz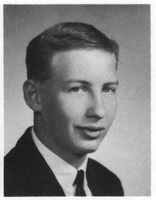 Article from the Newton Kansan - NOVEMBER 28, 1970
Newton Man, 21, Killed in Accident Near City
A 21-year-old Newton man was killed in a traffic accident on U.S. 81 at the south edge of Newton around 3:10 a.m. today, Sheriff Norman Walker said.
He was identified as Steven Howard Schultz of 421 E. 10th. Walker said death resulted from a fractured skull.
He was a passenger in a north-bound car driven by Kenneth R, Hein, 24, of 1513 W. 7th. Hein was hospitalized at Bethel Deaconess Hospital with a laceration to his head and internal injuries.
Another passenger in the car, Richard L. Willems, 25, of 509 E. 11th, was treated at the hospital for bruises and release.
It was the 9th traffic fatality in Harvey County this year. There were 7 during all of 1969 and the same number in 1968.
Walker gave this account of the accident:
"Just after the car passed the top of the overpass it went out of control and started skidding sideways. When it reached the north end of the overpass it started rolling over and finally came to rest on its wheels in the ditch on the west side of the southbound traffic lane."
Hein was thrown from the car. Willems managed to free himself from the back seat of the vehicle and went for help.
Mr. Shultz was pronounced dead on arrival at Bethel Deaconess Hospital. He was born May 25, 1949 in Newton.
He enlisted in the Army Nov. 6, 1968 and was discharged June 8 of this year. He was wounded while serving in Vietnam and received the Purple Heart.
He had been working as an apprentice machinist for the Santa Fe Railway in Kansas City.
He was a member of Veterans of Foreign Wars.
Survivors include his parents, Mr. and Mrs. Howard Shultz; 1 brother, Robert of the home; a sister, Mrs. Robert (Sandra) Stone of Newton; and grandparents Mr. and Mrs. Edwin Garrett of Newton and Mrs. Marie Schultz of Durham.
Funeral services will held at 10 a.m. Tuesday at Draper-Cannon Funeral Home. The Rev. Louis L. Dale will officiate and burial will be in Greenwood Cemetery.
Military graveside services will be conducted by the VFW Post.