Newton High School


Class Of 1968
In Memory
Duane Mason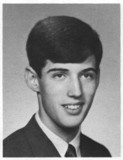 December 31, 1950 - February 26, 2010
Biography
MASON, Duane G., age 59, former MSGT for the National Guard died in his home on February 26, 2010. He is survived by his wife, Nell Mason, and her family, local to the tri-county area, and daughters out of state. Private family service at a later date. Donations may be made to National Coalition for Homeless Veterans, 333 ½ Pennsylvania Ave, SE, Washington, DC 20003-1148.
Duane lived and died in Montgomery Alabama. He went in for surgery to remove his appendix and was home recuperating. He then suffered a blood clot to the brain that killed him. He was retired from the Air Force and working in a civil service job down in Alabama.
He is survived by his wife Nellie of the home and daughters Heather Mason and Melanie Olden both of Wichita.