Newton High School


Class Of 1968
In Memory
Stan Koehn VIEW PROFILE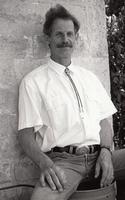 Stanley Joe Koehn, 68, left his body on the morning of September 6th, 2018. He went peacefully in his sleep, dreaming of a land where the bacon and Pilsner Urquell run wild, and the skies are not cloudy all day.

Stan was born April 16, 1950 in Goessel, KS, to Inez and George Koehn. He grew up in the small community of North Newton, where he attended Elementary and High School. He furthered his education at Wichita State, Emporia State, and his beloved Kansas State University.

Stan found his heart's home on McDowell Creek in 1981. He lived in an old stone farmhouse with no plumbing for 20 years, as he loved his rustic lifestyle and treasured each outdoor shower in the middle of the winter.

In 1985, Stan graduated from KSU with a degree in Architecture. He had a passion for design, an eye for renovating old homesteads, and a commitment to sustainable building. Stan left his mark on every project he worked on, but especially his renovations; he possessed an innate talent for restoring the original beauty of long forgotten homesteads. He had very fond memories of his time spent at Meadowcreek, in Arkansas, with his compadres in architecture: Daryl Rantis, Steve Downen, Doug Pierce, and his mentors Gary Coates, Will Orr, and David Orr. He worked as a Designer/Builder from 1985 until shortly before his death. Stan's passion for building always overlapped with his connection to his clients, many of whom became good friends.

He married Teresa Tait at the farm on May 17, 1998, and together they began a renovation of their farmhouse. It was during this process that Stan finally surrendered to indoor plumbing, and he remained grateful for every warm shower that followed. His musical skills blossomed over the years, faithfully attending the Walnut Valley Festival/National Flat Pick Championships in Winfield. He was part of a musical community that got together every week to jam, catch up, and imbibe—a night that brought much joy to his life. He was a lover of all instruments, but spent most of his time on the harmonica and upright bass. Legend now has it, if you take a harmonica out on a windy Kansas day, he might just play for you.

Stan was not only a designer and musician. His artistry was ever present in each part of his life. From fishing, cross-country skiing, and history, to taking time to understand what he did not, Stan's greatest gift was making sure those around him knew they were loved.

He was preceded in death by his parents, Inez and George, his brother Steve, brother-in-law Carson, and grandchildren Jackson, Daryl, and Jessica.

Left to carry on Stan's memory are his wife, Teresa, and her children, Ted and Denise, Tony, Brenda and Max, and Taylor and Aimée. From Teresa's family there are seven beautiful grandchildren, mother Verene, one brother, two sisters and sister in law, seventeen nieces and nephews, their partners and forty-five great nieces and great nephews. From the Koehn family, Stan's brother Jim and his wife Alice, sister Virginia and husband Ron, brother Brad and brother in love Larry, four nephews, two great nephews, eight great nieces, five great great nephews, and one great great niece. Stan not only had a big family, but will live on in the hearts of many dear friends.

A Celebration of a life well lived will be held in the spring of 2019, close to Stan's birthday.

Contributions and memorials in memory of Stan may be left in care of the Yorgensen-Meloan-Londeen funeral Home, 1616 Poyntz Avenue, Manhattan, Kansas 66502.

Online condolences may be left through the funeral home website at www.ymlfuneralhome.com
Click here to see Stan's last Profile entry.