Newton High School


Class Of 1968
In Memory
Don Horton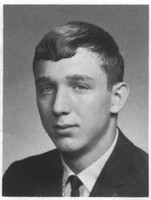 ARKANSAS CITY — Donald Ray Horton, 58, of Arkansas City, died June 1, 2009, at his residence.
Cremation has been effected.
Services will be 11 a.m. Friday at New Hope Assembly. Pastor Jackie Vogele will officiate. Burial will be in the Kansas Veterans Cemetery in Winfield.
A memorial has been established for the Donald Horton Memorial Fund. Contributions can be made through Rindt-Erdman Funeral Home.
Online condolences may be made at www.rindt-erdman.com.
Mr. Horton was born Dec. 21, 1950, in Caldwell, to William D. and Edna (Lowdy) Horton. He was reared in Newton and graduated from Newton High School in 1968.
After high school, he served in the United States Marine Corps and fought in the Vietnam War.
On Oct. 22, 1975, he married Bridgett Moore in Ponca City. The couple made their home in Ponca City for 14 years before moving to Arkansas City. Mr. Horton was a master stone mason and owned and operated Horton's Masonry for 35 years.
Survivors include his three sons, Donald James Horton and Jeremy Don Horton, both of Arkansas City, and Joshua Ray Horton, Winfield; a sister, Viola Johnson, Chicago, Ill.; brothers, William David Horton and Paul Allen Horton, both of Arkansas City; eight grandchildren and numerous nieces and nephews.