Newton High School


Class Of 1968
In Memory
Charles F. Fry (Jr. )
Charles "Chuck" Fredrick Fry, Jr.
(August 19, 1950 - July 31, 2017)
Charles Fredrick "Chuck" Fry, Jr., age 66, loving husband, father and grandfather passed away at the Kansas Medical Center in Andover, KS on Monday, July 31, 2017. He worked for the Santa Fe Railroad for 15 years and retired as a custodian and maintenance man for USD 353 after 25 years.
Chuck was born on August 19, 1950 in Newton, KS to Charles F. Fry, Sr. and Dolleen (Holdeman) Fry.
Chuck married Deborah J. Washburn on December 20, 1970 in Wellington, KS.
Chuck loved spending time with his family and friends, (especially his children and grandchildren). He enjoyed carpentry and was owner of Chuck's Cabinet Shop. He also enjoyed fishing, motorcycles and the students at Eisenhower School. He was a member of the Calvary Lutheran Church.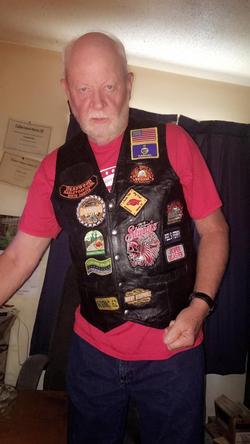 He was preceded in death by his parents and one grandson, Charles Scot.
Survivors include his loving wife of 46 years, Debbie of the home; one son, Billy Fry of Wellington, KS; two daughters, Allison McLain and her husband Cliffton of South Haven, KS and Tracie Clark and her husband David of Wellington, KS; two sisters, Cathy Couch of Rogers, AR and Jane Cottle and her husband Brooks of Parkersburg, WV; and eight grandchildren, Jessica and Elizabeth Whaley, Austin, Taylor and Logan McLain, Cody and Chloie Delancey and Samantha Fry.
Funeral Services will be held at the First Christian Church in Wellington, KS on Saturday, August 5, 2017 at 10:30 A.M. Pastor Randolph D. Burchfeil will officiate. Interment will follow at Prairie Lawn Cemetery in Wellington, KS.
Visitation will be held at the funeral home on Friday, August 4, 2017 from 1:00 – 8:00 P.M. The family will be present to greet friends from 6:00 – 8:00 P.M.
A memorial has been established with the American Heart Association in lieu of flowers. Memorials can be mailed to or left at the funeral home. Frank Funeral Home is entrusted with the arrangements