Newton High School


Class Of 1968
In Memory
Edward Southern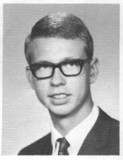 Article from Newton Kansan




Bullet Ricochets in South Vietnam
Newton Marine Killed in Accidental Shooting




A Newton Marine, Pvt. 1-C Edward Charles Southern, 18, has been killed in South Vietnam.

His parents, Mr. and Mrs. Edward J. Southern, 1501 E. 9th, were notified Sunday of their son's death in Wednesday at Danang Quang Nam Province.

He was a victim of a bullet fired by one of t his own men that ricocheted on a rifle range, information from the Defense Department revealed.

Pvt. Southern had been in South Vietnam since July of last year. He was a member of t he 1st Marine Division, 2nd Battalion H&S Co., 106th Platoon.

He took is boot training at Camp Pendleton, San Diego Calif., before going overseas.

He was the second Newton casualty of the Vietnam War.

Pvt. Southern was born March 28, 1950 in Crawfordsville, Ind.

He was a member of Bible Baptist Church in Newton.

In addition to the parents, survivors include 1 brother, Adrian W. of the home; 2 sisters, Mrs. Dan (Louise) Chaffee of Ferguson, Mo., and Terry Ann Southern of the home; grandparents, Mr. and Mrs. Charles G. McCulloch of Wichita and Mrs. Henry H. Anduss of Newton; and a great-grandmother, Mrs. Henry Akers of Newton.

Funeral arraignments will be announced by Draper's Funeral Home

Newton Marine's Rites Arraigned




Funeral services for Pvt. 1-C Edward C. Southern, 18, Newton Marine who was killed Feb. 26 in South Vietnam, will be held at 2 p.m. Friday at Newton Bible Baptist Church.

The Rev. Boyd White will officiate and burial will be in the Greenwood Cemetery.

Military graveside rites will be conducted.

Pvt. Southern was the son of Mr. and Mrs. Edward J. Southern, 1501 E. 9th.

============================================================

Dennis Schmidt took this photo of Ed's name at the Vietnam memorial on the Mall in Washington D.C.