Newton High School


Class Of 1968
In Memory
Judy Jones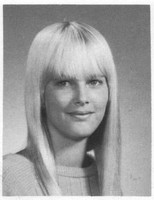 From the Newton Kansan

Judy Ann Jones
Judy Ann Jones, 34, of Lawrence, a physical therapist at Lawrence Memorial Hospital and a former Newton resident, died Saturday (Jan. 12, 1985) at St. Francis Hospital in Topeka after a long illness.
Services will be a 2 p.m. Wednesday in the Draper-Cannon Funeral Home Chapel with the Rev. Leroy Bott officiating. Burial will be in Greenwood Cemetery.
Miss Jones was born Dec. 12, 1950, in Newton to Stanley E. and Elvena Jones. She moved to Lawrence in 1972 after living in Newton, where she graduated from Newton High School. She graduated from the University of Kansas in 1978. She was a member of the Assembly of God Church and the American Physical Therapy Association.
Survivors include her parents, of Newton; one brother, Robert Jones of Baldwin; and one sister, Mrs. Orville (Betty) Schmidt of Newton,
Friends may call from noon Monday until service time Wednesday at Draper-Cannon Funeral Home. The family suggests memorials to the Lupis Division of the American Center Society. Gifts may be left at the funeral home.