Newton High School


Class Of 1968
In Memory
Don DeVola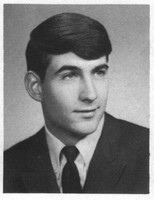 BORN: October 31, 1949 (in Kansas)
DIED: January 29, 1974 (San Francisco, California)
From The San Francisco Chronicle - Thursday, January 31, 1974
Gate Bridge Jumper Is Identified
The 24-year-old man who plunged to his death from the Golden Gate Bridge Tuesday was identified yesterday as Donald R. Devola, a stock clerk.
Devola climbed over the rail on the bridge at about 4:15 p.m. Tuesday. His body was recovered two hours later by two Army MPs near Fort Point.
Devola, according to a friend, had lived in San Francisco for eight months. Since he arrived here from Wichita, Kan., he worked in several stores as a stock clerk.
Leroy Stevens, the friend who identified Devola's body, said the two had shared an apartment until two weeks ago.
"We had a lot of talks." Stevens said. "He just couldn't handle life." Stevens came to San Francisco with Devola from Kansas.